"…You'll need to survive the zombie onslaught in PlayStation Home and unlock the exclusive "Exploding Zombie Meat" weapon for use in Dead Island."
— PlayStation Blog
The
Zombie Survivor Game
is a promotional time limited mini-game for
Dead Island
exclusive to PlayStation Home. It was announced on August 17, 2011 by Locust_Star, the PlayStation Home Community Manager, in the PlayStation Blog as the third phase of the
Dead Island's
TIG (Total Game Integration) event
[1]
. The blog post also mentioned a special
Dead Island
mini-game survival guide that was offered to the players on August 18 so that they would be able to use it to survive in the mini-game and complete the ten challenges
[2]
required to unlock the exclusive code — and receive PlayStation Home specific rewards.
Development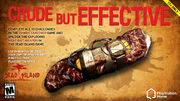 The zombie surviving Phase 3 was launched on August 18, 2011 and required the players to "…hack, slash, bludgeon, shoot, decapitate, and dismember swarms of zombies in a series of bloody, hyper-violent challenges"[3] in order to unlock the exclusive "Exploding Zombie Meat", a "crude but effective" weapon for use in Dead Island.
On August 24, 2011 it was announced that over eight million zombies were killed in the Zombie Survivor Game. The blog post also offered a new craftable weapon with an interesting finishing move that would be available on August 25, the "Double Axe"[4]. The players who preorder Dead Island directly from Central Plaza were promised to receive an added bonus, the "Exploding Zombie Suit".
The blog post also announced a new challenge: each player helping the community to reach twenty million kills count would receive a special severed zombie head virtual item. However, on August 31 it became clear that the challenge wasn't completed by the community[5]. Still, the challenge remained and the players were offered a new weapon, the "Sawblade Mace".
Gameplay
The player's Avatar has to fight off waves of zombies using weapons that spawn in random places. The mini-game also features special finishing moves such as kicking off zombies' heads or stomping them.
There are various challenges that must be completed in order to receive a host of unique rewards — including a code for the "Exploding Zombie Meat". These challenges are mostly completed by killing numbers of zombies and receiving points; the player receives 10 pts every time they kill a zombie.
References
Ad blocker interference detected!
Wikia is a free-to-use site that makes money from advertising. We have a modified experience for viewers using ad blockers

Wikia is not accessible if you've made further modifications. Remove the custom ad blocker rule(s) and the page will load as expected.