Wooden Plank
Talk

0
1,271pages on
this wiki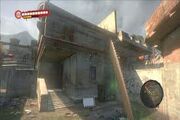 The Wooden Plank is a blunt weapon featured in Dead Island. It is essentially a large, partially broken board with a thin end serving as the handle and a thicker end serving as the striking surface. They are most commonly encountered on the Resort beaches or carried by the undead who often throw them at the Heroes when they stand outside of their melee range.
Wooden planks, like the other makeshift weapons, don't scale their stats to the Hero's level so their usefulness to the player decreases over time. In addition, they cannot be modified, cannot be upgraded, cannot be repaired at a work bench, and are discarded automatically by a character when they reach 0% durability.
There is also another version of the wooden plank that has nails in it adding slightly higher damage and, much like the original wooden plank, is also discarded once it reaches 0% durability.
Varieties
Edit
Fence Plank
Nailed Plank
Wooden Plank
The Wooden Plank can be found in buildings with wooden floors (i.e. Bungalows and Beach Bars).
For some odd reason, they are quite uncommon, even for a basic melee weapon.