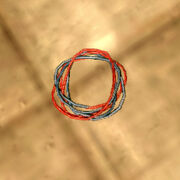 Wire is a miscellaneous item used for customizing weapons. It can be found throughout the Dead Island.
Locations
Salesman in lifeguard-tower
In a milk crate next to the workshop in the Lighthouse supply room.
Above and to the right of the workshop in the back of the Water Sports Rental kiosk along the beach (near where the Hero rescues Haris in Act I).
On the shelf near the workshop when you first enter the Supermarket.
Found randomly in lootable containers (closets, luggage, etc.).
Uses
Ad blocker interference detected!
Wikia is a free-to-use site that makes money from advertising. We have a modified experience for viewers using ad blockers

Wikia is not accessible if you've made further modifications. Remove the custom ad blocker rule(s) and the page will load as expected.