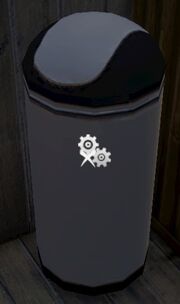 Trash cans are small colored disposal bins found throughout Dead Island. They are containers that hold various miscellaneous items.
These can be found anywhere in Banoi Island and can contain any miscellaneous items. The trash can has several physical appearances varying between areas. They are found in or around most common structures. Other similar items would include Duffle Bags, Metal chests, and other common items that would have been used by both Island tourists and the regular inhabitants.
Ad blocker interference detected!
Wikia is a free-to-use site that makes money from advertising. We have a modified experience for viewers using ad blockers

Wikia is not accessible if you've made further modifications. Remove the custom ad blocker rule(s) and the page will load as expected.