Tomb of Natives
Talk

0
1,270pages on
this wiki
The Tomb of Natives is a location featured in Dead Island. It is the burial site for the local natives of Banoi. The Tomb consists of the Natives' Village and the Catacombs.
Natives' Village
Edit
The Natives' Village is divided by a mountain. The two halves are connected by a bridge across a chasm. There are many huts and houses that were once used by its residents. The village is currently inhabited by the zombified natives.
One section of the village, closest to Mowen's Boat, is below a waterfall and has a human sacrificial altar in the center. The other section of the village has a large fire pit in the center. This is where the Hero will be attacked by several Walkers, Infected and a Thug.
A bunker is seen above the second section of the village, on the mountain. The bunker is empty and is accessible (though it is a waste of time to get there and to enter).
Catacombs
Edit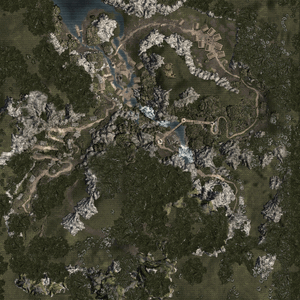 The Catacombs are the primary destination of the quest "Pure Blood". The path leading up the mountain leads to the Catacombs wherein the natives are buried. The path leads to a rope bridge that consists of two sections as it spans over the waterfall and lake below. A drawbridge leads to two openings leading in or out of the Tomb. One entrance is where Koritoia Ope takes the Hero, the second is an exit where Yerema leads the Hero out of the Tomb.