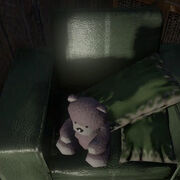 Teddy is an item featured in Dead Island. It is found in bungalow 15, located near the hotel. Anne Snider treats it as a real person, though it is an inanimate object.
It is the primary objective of the side quest "Toy Story," in which the Hero must return the toy to its owner, Anne.
In order to take the teddy, the Hero must get past Hector Lecter, who immediately attacks the Hero upon entering the bungalow. Lucy is also there, curled up in the corner and ignoring what's happening around her.
Ad blocker interference detected!
Wikia is a free-to-use site that makes money from advertising. We have a modified experience for viewers using ad blockers

Wikia is not accessible if you've made further modifications. Remove the custom ad blocker rule(s) and the page will load as expected.