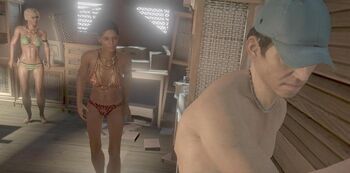 Survivors are people who have not died or turned into zombies before the start of the game. Non-playable survivors can give the Hero certain quests or some information, merchants offer different items in exchange for cash or unwanted items, and one of them (Jin) can even carry the player's items. Non-interactive survivors are normally encountered along with interactive survivors but most eventually become interactive later on in the game.
Some survivors will ask the player to complete a task for another survivor. i.e. getting some medicine, bandages, food, etc. Some survivors may require certain tasks completed before more dialogue options will unlock. It is best to re-check the Safe House locations after completing several tasks for any additional dialogue options that will occur.
Playable (Heroes)
Non-playable
Note: The Pool House is later abandoned, as the group moves to the Lifeguard Tower.
Other survivors
Square (Abandoned house)
Note: Later the safe house is overrun and everyone is killed or turned into a zombie.
Other survivors
Note: Later the safe house is overrun and everyone is killed.
Other survivors
Note: Later the Canteen is overrun and several of the prisoners are killed, including Mowen. Alvaro Sanchez, Brian (prison), Kevin, and Jeremy survive. Banoi Butcher is meant to be killed beforehand.
Other survivors
Dead Island: Riptide
Batram's Family
Other Survivors
Other Survivors
Ad blocker interference detected!
Wikia is a free-to-use site that makes money from advertising. We have a modified experience for viewers using ad blockers

Wikia is not accessible if you've made further modifications. Remove the custom ad blocker rule(s) and the page will load as expected.