Striker Rifle Mod
Talk

0
1,259pages on
this wiki

"A lot of people around here need help. Talk to them. Maybe you can lend them a hand."
This article is a stub. You can help Dead Island Wiki by expanding it.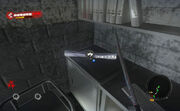 "If you want to experience truly blazing fun with your rifle take advantage of my idea. Step by step you'll turn your gun into a portable dragon."
— Description
The Striker Rifle Mod is one of the weapon mods featured in Dead Island. This mod is used to add Fire damage to Rifles and Auto Rifles available in the game.
During the quest "Full Metal Jacket", the player can find the blueprint on a countertop in the Prison Armory.