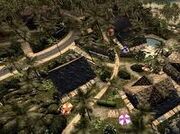 The Silver Bungalows is a bungalow district of the Royal Palms Resort in Dead Island overlooking the beach east of the hotel and north of the Lifeguard Tower. The bungalows are arranged around a single shared pool, with two paths down to the beach on either side.
During the side quest My Precious, the Hero must go to Bungalow 6 in the Silver Bungalows in search of Jeannine's lost necklace, which was given to her by her husband. The Hero will also find Jessica Nelson in the same bungalow as Jeannine's necklace. Jessica is behind a pickup truck blocking the front doors, and begs the Hero to help her husband, Roger. This begins the "Bloody Valentine" quest.
The second of two transformer stations is located on the fast eastern side of the bungalows, at the cliff side overlooking the beach. The transformer station is only accessible after receiving instructions from Marcus Davis during the A Ray of Hope quest.
Gallery
Ad blocker interference detected!
Wikia is a free-to-use site that makes money from advertising. We have a modified experience for viewers using ad blockers

Wikia is not accessible if you've made further modifications. Remove the custom ad blocker rule(s) and the page will load as expected.