Signal Amplifier
Talk

0
1,270pages on
this wiki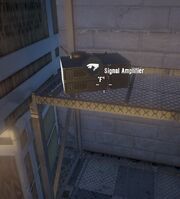 The Signal Amplifier is a quest item featured in Dead Island. This radio signal amplifier resembles a CB radio.
It is a part of the quest "On the Air", given to the Hero by Dominic at the Lifeguard Tower.

"A lot of people around here need help. Talk to them. Maybe you can lend them a hand."
This article is a stub. You can help Dead Island Wiki by expanding it.