"Scavenger" is 4v4v4 PvP game mode featured in Dead Island: Epidemic
Info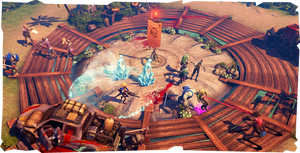 Your team arrives to collect vital supplies. Other teams will be in your way trying to get the best loot. Break down the barricades in your patch and join the battlefield. Fill Sinamoi's truck with supplies in order to win.
"Scavenger" currently features The Resort, The Jungle and The Expedition maps.
Ad blocker interference detected!
Wikia is a free-to-use site that makes money from advertising. We have a modified experience for viewers using ad blockers

Wikia is not accessible if you've made further modifications. Remove the custom ad blocker rule(s) and the page will load as expected.