Rebels
Talk

1
1,272pages on
this wiki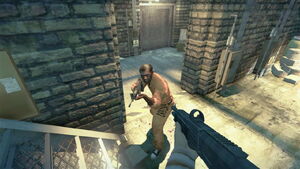 "I'm opening all the cells! Now everybody can join the party!"
— Rebel
The Rebels are prisoners who have escaped from their cells and now work for Titus Kabui. They have armed themselves with weapons from various armories from around the prison and will fire upon Ryder White in the Ryder White's Campaign when encountering him. The Rebels are gathered in clumps throughout the prison and pose as obstacles to Ryder. At one point, a prisoner releases the zombified convicts, including two Rams, in a cell block.
Oddly, Rebels take reduced damage from torso shots, as though they were wearing body armor, even though their character model is unarmored and, in several cases, shirtless.
"That red beret makes a nice target, eh?"
— Rebel
"I fucking hate officers…"
— Rebel
The Rebels encountered by the Hero seem to affiliated with no one. They have the same uniforms as the BIDF Soldiers led by White, but some prisoners' dialogue imply they were the prison security guards that have survived the outbreak and using weapons from the armories.
Rebel Health
Level
Health
1
400
9
500
16
720
31
1300
40
1600
50
1800