Police Station
Talk

0
1,262pages on
this wiki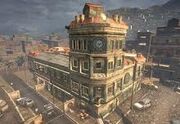 The Police Station is a location featured in Dead Island. It was the headquarters of the Moresby Police Service, however, when the outbreak became out of control, most of the officers were sent out to stem the tide of infected, ultimately being killed or infected in the process, leaving the station open to take over by the Raskol gangs. The police armory has already been looted, although the player can still find an occasional firearm there. After the mission "Lady in Trouble", the police station can be returned to via the barricade at the front. This can now be climbed over, and entered via the main gate, taking the player to the parking garage. However, caution is recommended when returning later on, as the station has been overrun with the undead, and a high concentration of armored infected can be found throughout the building. Despite this, the building can be looted for firearms and large quantities of computer related loot, like electronic scrap, batteries, large batteries, etc.
The parking garage floor on the right side has water that's been electrified, but this can be used to the player's advantage, as the undead can be lured into it for easy kills. There can often be either Suiciders, Rams or Thugs in the garage as well as Infected.
In Ryder White's Campaign, the player will have to fight some of the punks who took it over, which are the ones who hang out at the entrance of the police station. After Ryder White kills them, the punks completely abandon that area of the station, including the parking garage and the jail cells, letting zombies roam it.
Notable loot
Edit
"If anyone can hear this, we've taken over the Police Station! The law is gone and we are in charge! And if you're looking for help, don't look here! We can't help you. It's the law of the Jungle now."
— Police Station Punk
"Stay away from the Police Station! There is no help to be had here! We've taken it over and if anyone approaches, we'll consider them an enemy."
— Police Station Punk
"Anyone listening, hear me now! The police has fled like cowards and the Station is ours! Do not come here for help. All you will find here is death."
— Police Station Punk
"Us Raskols have taken the Station and the Authorities have no authority here! Do not come here for help! We have nothing to give! There is no help!"
— Police Station Punk