Parking Lot
Talk

2
1,271pages on
this wiki

"A lot of people around here need help. Talk to them. Maybe you can lend them a hand."
This article is a stub. You can help Dead Island Wiki by expanding it.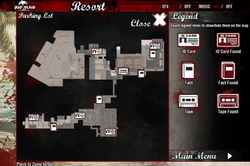 The Parking Lot is a section of the Royal Palms Resort hotel building in Dead Island. The Hero has to recover an armored truck from here in the main quest "Born to Be Wild".
It's recommended to obtain any collectable items in this area when doing the "Born to Be Wild" quest. If the player returns after completing the quest, the elevator shaft leading down to the kitchen will be closed and they won't be able to get to any collectable items they may have missed. The one way to go back is to start from Chapter 3.