Misery Wagon
Talk

4
1,270pages on
this wiki
Misery Wagon


Difficulty
Medium
Reward
2700 XP
Task
Go to a mechanic to reinforce the truck.
Location
Lifeguard Tower
Misery Wagon is a medium quest given to the Hero by John Sinamoi in Dead Island.
The Hero must find a mechanic, Earl, and ask him to reinforce the armored truck. This quest is the first of a series.
The Hero drives the armored truck to Earl's workshop and must clear the area of zombies in order to get in. Earl, who is wounded and is going to become one of the undead, asks the Hero to take care of his daughter, Jin, and the Hero eventually agrees.
The Hero is given the quest "Only the Strong Survive", and while Earl is converting a truck to a fortress, the Hero must defend the workshop.
When the truck is reinforced, the Hero is given the quest "On the Road".
Video Walkthrough
Edit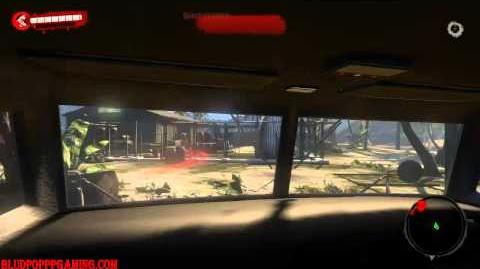 "A lot of people around here need help. Talk to them. Maybe you can lend them a hand."
This article is a stub. You can help Dead Island Wiki by expanding it.