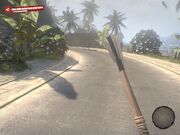 The Mace is a blunt weapon featured in Dead Island. The mace can be found in many different variations throughout the Banoi Island. The first mace the Hero will probably get is from Helen in the very beginning of Act II after completing the quest "Sacred Silence".
Varieties
Mace
Flanged Mace
Exotic Mace
Morning Star
Savage Mace
Uses
The mace, while very powerful, is very slow and consumes vast amounts of stamina like the Kanabo. Like most blunt weapons, the mace has very high force and is likely to send zombies flying with each hit. Always aim for the head for a "special" attack.
Mods
The mace, in at least one variety, is modable with the following combinations:
Gallery
Ad blocker interference detected!
Wikia is a free-to-use site that makes money from advertising. We have a modified experience for viewers using ad blockers

Wikia is not accessible if you've made further modifications. Remove the custom ad blocker rule(s) and the page will load as expected.