Lighthouse Gas Station
Talk

0
1,271pages on
this wiki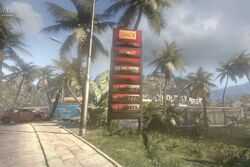 The Lighthouse Gas Station is a location in Dead Island.
The pump needs to be turned on for the quest Ashes to Ashes. It is also one of the locations for obtaining gas for the quest Fluid Necessity. It also contains juice boxes that are part of the Seek'n'Loot quest.
Two Survivors, Dan Mark and Sathiss, will be hiding out inside this gas station when the Hero first arrives here. They wil open the front door, which they have barred to allow the player entrance. Later however, when the player returns, the survivors are no longer alive. The front doors of the station itself being smashed open and now Zombies are roaming the area.
Characters
Edit

"A lot of people around here need help. Talk to them. Maybe you can lend them a hand."
This article is a stub. You can help Dead Island Wiki by expanding it.