Legendary Weapons
Talk

11
1,271pages on
this wiki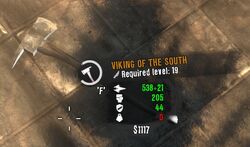 Legendary Weapons are unique orange name weapons in Dead Island obtained from metal chests, random drops or as quest rewards. They are often very powerful, compared to the basic version of the weapon, depending on the level at which they are obtained.
They can also be found in Dead Island: Riptide generated in various arranged scenery details (corpses with specific types of melee weapons protruding from them, axes lodged in walls and trees, etc.) located around Palanai Island. However, the legendary weapons in Riptide include Name Prefixes attached to them and no longer generate exclusively with yellow colored font. It is also worth noting that these weapons may not generate until you have transitioned out of the Flooded Jungle to the Henderson Ferry Station or Henderson itself.
List of Legendary Weapons
All legendary weapons don't have any Name Prefix attached (except in Dead Island: Riptide), while some are uniquely named (listed below).

"A lot of people around here need help. Talk to them. Maybe you can lend them a hand."
This article is a stub. You can help Dead Island Wiki by expanding it.