Katana
Talk

2
1,315pages on
this wiki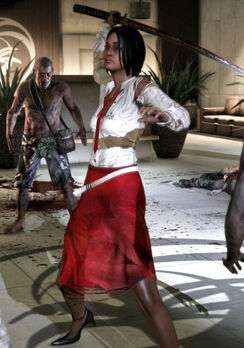 The Katana is a sharp weapon featured in Dead Island. Unlike the Wakizashi and Eviscerator, this sword is a two-handed weapon.
The Katana deals high damage, has above average force and has low to average durability. It also has a long reach and can hit unarmed enemies like most of the zombies outside their attack range. Xian Mei can perform a special attack when her first blade skill is upgraded. The skill is activated when you aim at an enemy's head or neck, then Xian presses the blade against their neck, causing roughly 1000–2000 damage.
The side quest "Deus ex Machina" gives the Hero a Katana as a reward.
Can be randomly dropped by zombies in the Jungle.
Different merchants sometimes sell a Katana on the later stages of the game.
A side mission in Act III in the Prison leads to acquiring the legendary katana, Zed's Demise.
Can be found in "Stan's House" in Dead Island: Riptide. Here is a video Katana Location Guide:
 
The Katana is mod-able with the following combinations:
Katana is a type of a traditional Japanese long sword commonly used by Samurai since the 14th century.