Italian Plumber
Talk

2
1,259pages on
this wiki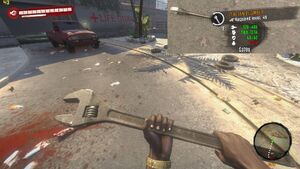 The Italian Plumber is a Legendary wrench that can be found in any locked chest. It is rumored to appear rather often in the sewers in the city of Moresby, and also can found in the Laboratory area in the Jungle during Act III.
The name "Italian Plumber" is a reference to the popular video game character, Mario.

"A lot of people around here need help. Talk to them. Maybe you can lend them a hand."
This article is a stub. You can help Dead Island Wiki by expanding it.