ID Card #18 is a collectible item in Dead Island, and can be found in the Resort Map of Act I. It is part of the My collectibles, let me show you them! challenge, and the Gotta find'em all and Nearly there achievements.
Location:
Inside open luggage outside hotel main entrance area.
Can be seen on the following map:

Gallery
Video Gallery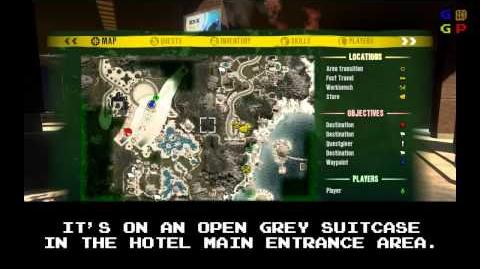 Thought I would narrow this down a bit considering there's like 100's of open suitcases at the main entrance to the hotel so here goes. . .1st of all,in front of the hotel there's this road forming a circle,well almost since you can't see some of it for the roof, but actually that's just where you wanna go,to the part of the road that's under the roof,here you'll find 2 buses with a car between them,& on the driver's side of the car (remember these cars have steering wheel on the left side) there's a stair leading up to a stack of luggage,one of these contains ID Card 18 
Ad blocker interference detected!
Wikia is a free-to-use site that makes money from advertising. We have a modified experience for viewers using ad blockers

Wikia is not accessible if you've made further modifications. Remove the custom ad blocker rule(s) and the page will load as expected.