Home Run (Non-Crafted)
Talk

0
1,271pages on
this wiki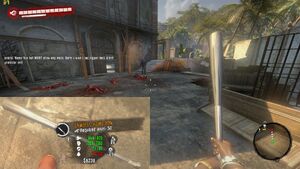 The Home Run (non-crafted) is a Legendary Weapon featured in Dead Island. It is a variant of the Baseball Bat.
Unlike most other bats, the Home Run is made of metal rather than wood, and will display all of the weapon mods that can be attached to it excluding the Ripper Mod which was only obtainable by pre-ordering Dead Island.
It can drop off dead enemies or be found in metal chests. It has a low chance of spawning and does not appear in any specific area.