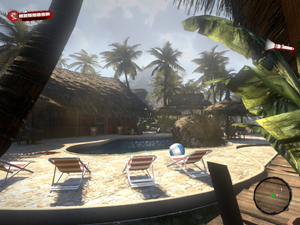 The Golden Bungalows district is a district of the Resort located to the north east of the hotel, close to the Lifeguard Tower. The bungalows are roughly the same size as the majority of the other bungalows, but are situated higher up on the hillside, closer to the hotel, with each bungalow having its own pool, or sharing a pool with only one other bungalow.
Kim and Anne Snider can be found in a bungalow just up the stairs from the broken down lifeguard truck, giving the Hero access to the side quests, Nectar of Life and Toy Story.
The first of the two transformer stations is located behind the bungalow adjacent Kim's bungalow. During the quest A Ray of Hope, Marcus Davis can be found here only during the quest, guiding the Hero to the other transformer station located in the Silver Bungalows.
The Hero will also find the dying Luke Craig in the north most bungalow (Bungalow 20), triggering the side quest Too Much Sugar. After completing the quest, only a bloody trail and smashed doors will be found in the bungalow.
Ad blocker interference detected!
Wikia is a free-to-use site that makes money from advertising. We have a modified experience for viewers using ad blockers

Wikia is not accessible if you've made further modifications. Remove the custom ad blocker rule(s) and the page will load as expected.