Extra Snack
Talk

0
1,271pages on
this wiki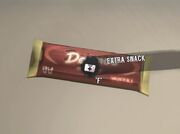 Extra Snack is a Food item that can be found from late in Act I to the end of the story, in Act IV. They appear as red candy bars, and are similar to normal Snacks, but restore a much higher amount of health upon use. It is the most powerful healing item among food, and rarely more than one Extra Snack can be found in the same place.
Strangely, the Hero never seems to tear open the package before eating the candy bar inside.
After the Hero eats the bar, a crunching sound can be heard three times after. The third crunch is harder to hear, as they get softer after each crunch.
The bars have "Deimos" written on their wrappers. This is a reference to the "Mars" bars, as Deimos is one of Mars' moons (the other being Phobos).