Exploding Meat
Talk

1
1,178pages on
this wiki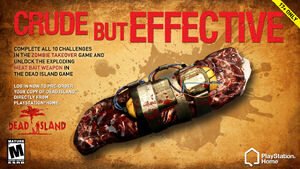 "Warning, this is not a cooking recipe! A piece of carcass wired with explosives can save your life. If you are not one of those fanatic vegetarians you can certainly manage it. Remember to fasten the explosives tight to the flesh so that the whole thing doesn't fall apart too early."
— Description
The Exploding Meat is a thrown weapon blueprint featured in Dead Island. It is essentially a superior version of the mostly useful Meat Bait item, which merely attracts zombies to a specific spot. The Exploding Meat, on the other hand, summons zombies to a specific spot... and then blows up with the force of a grenade, reducing the hapless cadavers to a substance not entirely unlike chunky salsa.
It was offered as a reward for completing a number of challenges in the Zombie Survivor Game, a time limited event that ran on the PS3 online service Playstation Home, in August 2011. As it was prior to the release of Dead Island, the reward was in the form of an unlock code. There has been some trade in these codes between PS3 users.
It has been confirmed that the blueprint for this weapon is accessible in the PC version of the game, so it may be assumed that it is located in the Xbox versions as well. It is unknown if the blueprint spawns in random locations during each play-through.
The mod was made available for the Game of the Year Edition.
No base item needed for this mod.
References
Edit