Drowned Hope
Talk

0
1,271pages on
this wiki
Drowned Hope


Difficulty
Hard
Reward
4000 XP, Cash
Task
Check what's happened to the pump station.
Location
Saint Christopher's Church
Drowned Hope is a hard quest given to the Hero by Mother Helen in Dead Island.
The Hero must travel to the pump station and uncover why Saint Christopher's Church lost their water source.
After finally shutting off the church bells, Mother Helen will ask you to find out what happened to their water supply. She goes on to say that she has already had two men go out, and they haven't returned since.
The pump station is on the opposite side of town, though, so be prepared before starting the trip.
Once you arrive at the pump station, men begin firing guns at you. To continue the quest and find out what happened to the two church men, you must kill the men and take over the pump station. It would be helpful to possess a gun already, but as soon as you kill one of the men you can take their gun/ammo and get on with defeating the rest.
Quitting the game while this quest is active will deactivate and reset the quest completely, forcing the player to talk to Helen to activate it again.
Video Walkthrough
Edit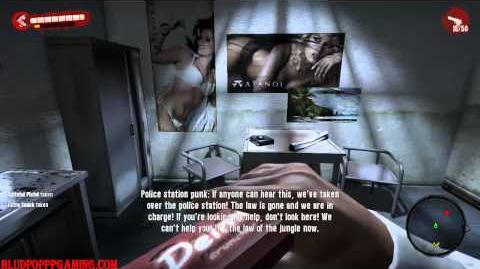 "A lot of people around here need help. Talk to them. Maybe you can lend them a hand."
This article is a stub. You can help Dead Island Wiki by expanding it.