Developer's No. 4 Craft
Talk

1
1,271pages on
this wiki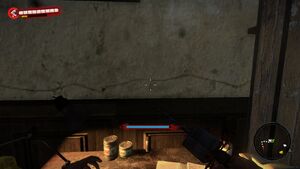 This is obtained through placing the Purple Skull in its proper location. For information on where to find the Purple Skull and its corresponding Altar, see the page dedicated to it.
Special Effect
Edit
It has the appearance of a Short Circuit Mod and has a 100% chance (before skill bonuses) to cause zombies' heads to explode. Use sparingly on other entities (repair cost from 0%: $11,672). Only works against Walkers, Infected, and Infected Ryder White.
Stats/Materials
Edit
"Just mindblowing craft by Simon!"
The Purple Skull unlocks the Developer's No. 4 Craft.

| Blueprint | Base Item Needed | Required Material | Cost | Stats |
| --- | --- | --- | --- | --- |
| Developer's No. 4 Craft | None | | $10,000 | |
This weapon is dangerous when Logan uses it with the Economical Throw Skill which will do damage to nearby enemies

"In times like these, you think people would pull together."
This article is poorly written. You can help Dead Island Wiki by rewriting it.