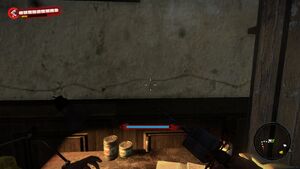 The Developer's No. 4 Craft blueprint is obtained through placing the Purple Skull in its proper location.
Special Effect
It has the appearance of a Short Circuit Mod and has a 100% chance (before skill bonuses) to cause zombies' heads to explode. Use sparingly on other entities (repair cost from 0%: $11,672). Only works against Walkers, Infected, Thug(s) and Infected Ryder White.
Stats/Materials
"Just mindblowing craft by Simon!"
The Purple Skull unlocks the Developer's No. 4 Craft.

| Blueprint | Base Item Needed | Required Material | Cost | Stats |
| --- | --- | --- | --- | --- |
| Developer's No. 4 Craft | None | | $10,000 | |
Notes
This weapon is dangerous when Logan uses it with the Economical Throw Skill which will do damage to nearby enemies
Videos
Ad blocker interference detected!
Wikia is a free-to-use site that makes money from advertising. We have a modified experience for viewers using ad blockers

Wikia is not accessible if you've made further modifications. Remove the custom ad blocker rule(s) and the page will load as expected.