The Developer's No. 1 Craft is a special weapon blueprint featured in Dead Island. It is obtained by placing the Orange Skull at its altar in the sewers. The skull can be found under the first set of stairs in the Supermarket. Regardless of the current Hero's level, this weapon mod creates a level 24 Electro Military Knife.
While the blade costs a large amount of money to repair, it — like the other weapons — does not take damage while thrown.
Stats
"Electro body."
The Orange Skull unlocks the Developer's Craft Mod #1. It is found under a flight of stairs in the supermarket where you have to kill Punks. After that, a pile of skulls is in the sewer right after that quest. When you come to a part where the water is green and radioactive, there is a ladder on the right. Upstairs in the room is its drop point.

| Blueprint | Base Item Needed | Required Material | Cost | Stats |
| --- | --- | --- | --- | --- |
| Developer's No. 1 Craft | None | | $10,000 | Unknown |
Video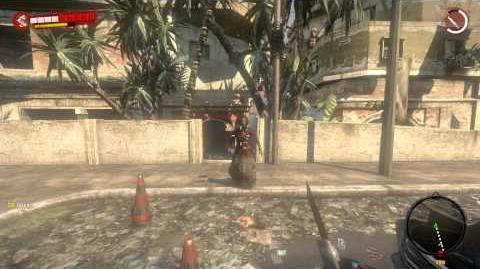 Ad blocker interference detected!
Wikia is a free-to-use site that makes money from advertising. We have a modified experience for viewers using ad blockers

Wikia is not accessible if you've made further modifications. Remove the custom ad blocker rule(s) and the page will load as expected.