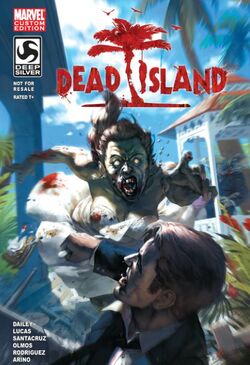 The Dead Island comic book is a comic book developed by Marvel Comics. It follows Roger Howard, an investigative journalist, as he looks into the illegal exploitation of Banoi Island's resources.
Synopsis
The story begins just as Roger Howard arrives. He explains why he is at the Royal Palms Resort, and then begins to target Kenneth Ballard the Royal Palms' manager. After gaining access to his office, Roger finds detailed files on Xian Mei, Purna, Logan Carter, and Sam B. After going through the files, Roger hears a knock on the door. Before opening it, he begins to explain that he was looking for the bathroom. Unfortunately, after opening the door, he comes face-to-face with a female zombie there by starting the events of his tape recordings he leaves around the island that the player finds.
Characters
Ad blocker interference detected!
Wikia is a free-to-use site that makes money from advertising. We have a modified experience for viewers using ad blockers

Wikia is not accessible if you've made further modifications. Remove the custom ad blocker rule(s) and the page will load as expected.