Bunker 02
Talk

0
1,174pages on
this wiki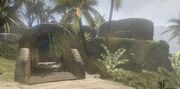 Bunker #02 is a Safe House in Dead Island.
Bunker #02 becomes a safehouse after the "Black Hawk Down" quest. The leader and only survivor of this safehouse is Nikolai. You can fast travel from this location. There is a level 3 chest up a ladder.
Notes:
A player can find a manhole cover in front of the door of the room where Nikolai, this shortcut leads apparently to another bunker where we appear in a room with two suiciders (one dead and one alive at the back of the room where show up) that can occur rarely later.
The bunker will be inaccessible without completing the mission "Black Hawk Down"