Bungalows
Talk

9
1,266pages on
this wiki

"To stand among us, you must prove you are worthy"
This article is a candidate for merge with Bungalow District. Give your opinion on this article's talk page.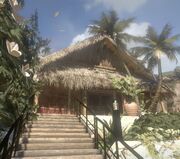 Bungalows are common structures in Dead Island. They are found throughout the Hotel Bungalows areas, some having numbers,some not and some having different colors. These structures make up the various areas and residences for tourists and visitors coming to the Island. Other common type structures are the Gas Stations.
Bungalows of note:
Survivors, Quests, Vehicles and other things can be found in the many districts.

"In times like these, you think people would pull together."
This article is poorly written. You can help Dead Island Wiki by rewriting it.