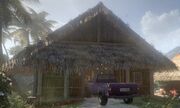 Bungalow 6 is a location in Dead Island. Bungalow 6 was owned by Jeannine and her husband before the outbreak.
Overview
Roger Nelson and Jessica Nelson reside here after they crashed their car and Roger is bitten. Jeannine's necklace is also located in the back area on the shelf. Breaking the glass allows easy access to its contents. A vehicle can be found here and requires it be moved to get access to the bungalow.
Related Quests
Trivia
A dead Zombie can be found on the floor, this could possibly be Jeaninne's Husband, she states that he is dead is the quest My Precious.
Ad blocker interference detected!
Wikia is a free-to-use site that makes money from advertising. We have a modified experience for viewers using ad blockers

Wikia is not accessible if you've made further modifications. Remove the custom ad blocker rule(s) and the page will load as expected.