Bungalow 4
Talk

0
1,260pages on
this wiki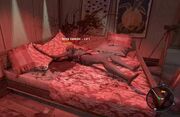 Bungalow 4
is a building in
Dead Island.
In the bedroom of the bungalow, there is a zombified woman named
Nenja Samejon
handcuffed to the bed with cameras surrounding her. Also, the film director is sitting against the wall, he is now a
Walker
and will attack the hero. The corpse of a woman can be found in the bathtub. There is also a radio that plays seductive music. It is reasonable to assume that some sort of adult film was being shot before the outbreak happened.

"A lot of people around here need help. Talk to them. Maybe you can lend them a hand."
This article is a stub. You can help Dead Island Wiki by expanding it.