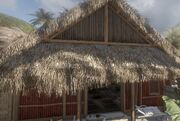 Bungalow 20 is a building featured in Dead Island. It is located in the Golden Bungalows area.
This bungalow is where Luke Craig can be found. He has been badly injured and needs help getting some insulin to his brother, Danny, thus giving the Hero the quest Too Much Sugar.
After finishing the quest the player will find the bungalow ruined. All doors will be broken and the player will gain access to a metal chest placed in the back of the bungalow.
Gallery
Ad blocker interference detected!
Wikia is a free-to-use site that makes money from advertising. We have a modified experience for viewers using ad blockers

Wikia is not accessible if you've made further modifications. Remove the custom ad blocker rule(s) and the page will load as expected.