Bleed Bomb Mod
Talk

0
1,270pages on
this wiki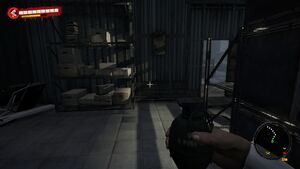 The Bleed Bomb is a new mod added in Patch 1.3. The Bleed Bomb is a projectile weapon that explodes on a delay causing normal physics damage and a bleed effect.

"In a domestic environment I devised a recipe for a simple but at the same time deadly dangerous bomb that while exploding showers everyone around with a rain of makeshift metal bullets. Everything can be done in one's own garage or workshop. Watch out for shrapnel!"
Found in the Resort map, on the beach, beside a lawn chair, half way between the two entrances to the Diamond Bungalows. It is north of the stage, near a wrecked lifeguard truck, beside a freestanding wooden wall.

| Blueprint | Base Item Needed | Required Material | Cost | Stats |
| --- | --- | --- | --- | --- |
| Bleed Bomb Mod | None | | $100 | |
Like all explosive projectile weapons, the player should not stand any where near the range of the blast radius. If the player is too close within the range of the explosion, it may cause instant death.
Bleed Bomb is probably one of the weakest projectile explosive, other than the Molotov. It is proven quite useful against human enemies at any level, with the exception of Jason. However it is also proven to be quite ineffective to zombies of higher level range, which is just like that of the Molotov.
When the Bleed Bomb explodes, it cause a small amount of physic damage, or normal damage, then any enemies within its blast radius at that time will start to bleed continuously for a short period of time, causing bleed effect.
Despite being a homemade grenade, it looks as though it were military issue, and bears a strong resemblance to the M26 hand grenade.

"A lot of people around here need help. Talk to them. Maybe you can lend them a hand."
This article is a stub. You can help Dead Island Wiki by expanding it.