Baseball Bat
Talk

0
1,270pages on
this wiki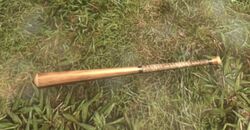 The Baseball Bat is a blunt melee weapon featured in Dead Island. It can be found in different variations throughout the Banoi Island.
Being one of the weakest weapons in the game (the basic variant is weaker than the paddle as it only deals 20 damage, 5 less than the paddle), Baseball Bats have a fast swing and medium range. They are quite useful on the early stages of the game while zombies have less health and the player doesn't waste much weapon durability fighting them, but over time, they begin to weaken and lose their durability at a faster rate; also, it should be noted that this weapon only scales up to level 24.
Varieties
Edit
Baseball Bat
Big Baseball Bat
Metal Baseball Bat (Can only be found/bought beyond level 25)
Legendary
Edit
The baseball bat is mod-able with the following combinations:
There is a unique baseball bat found next to Cho in the apartment.