Ban
Talk

1
1,271pages on
this wiki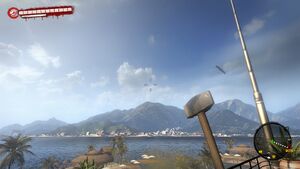 The Ban is a Legendary Weapon featured in Dead Island. It is a one-handed hammer and a blunt melee weapon. It is rarely found in metal chests or on dead enemies.
The Ban is known to accept the following modifications:
The hammer itself is a reference to the "Banhammer", a fictional tool used by online Staff, typically Moderators and Administrators, as the means to ban users who have violated the Terms of Use or the site's Rules.

"In times like these, you think people would pull together."
This article is poorly written. You can help Dead Island Wiki by rewriting it.